PATHOGEN OF THE MONTH: BACILLUS ANTHRACIS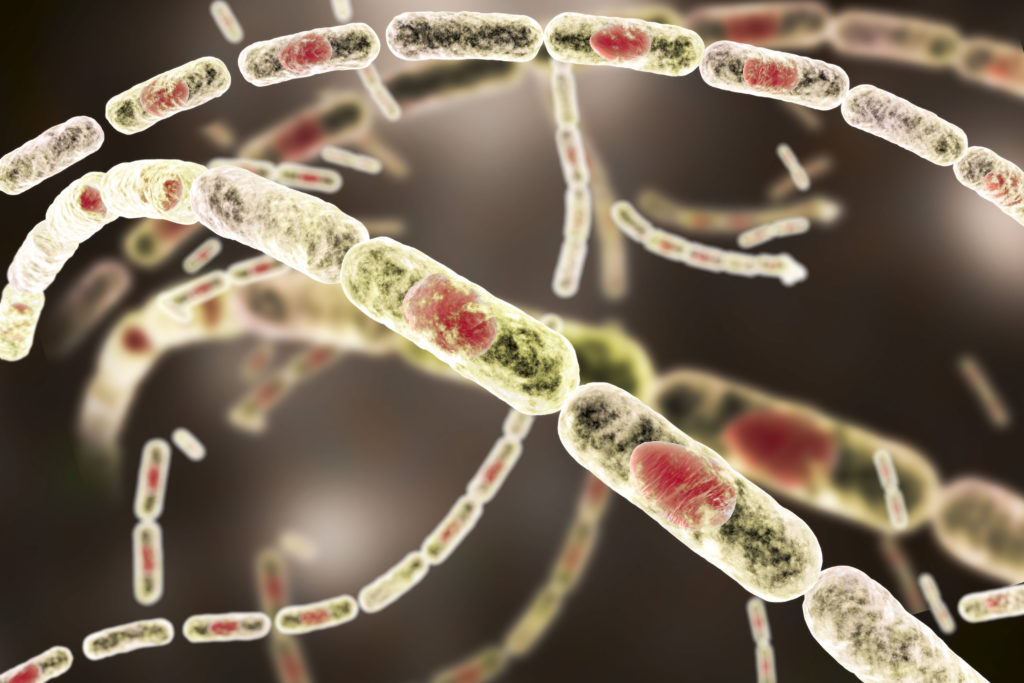 written by Chandana Balasubramanian
Trends from past decades can be delightful when they return to inspire today's music, fashion, and art. However, recently, a dangerous blast from the past reared its ugly head. In early August 2021, China reported a case of the deadly Anthrax pneumonia – its first case after ten years [1]. A few weeks later, local health authorities in another Chinese province discovered nine suspected cases of Anthrax [2]. Around the same time, Russia confirmed a case of Anthrax with a cutaneous infection in a patient involved in butchering cattle meat [3]. 
It's time to pay more attention to these small outbreaks. 
Anthrax Infections Can Be Serious

While these reported incidents seem to have been related to interactions with domesticated animals, Anthrax has been used as a deadly weapon for more than a hundred years. 
One of the most well-known instances of Anthrax used as a biothreat was in the United States, right after the 9/11 attacks of 2001. Five Americans died, and 17 were severely infected when contaminated letters lined with Anthrax were mailed through the U.S. postal service to senators and members of the media. In response, the Federal Bureau of Investigation or FBI launched 'Amerithrax'- one of the biggest and most complicated investigations in U.S. history. After conducting more than 10,000 interviews on many continents and collecting over 5,730 environmental samples, they found their suspect. 
Understanding the epidemiology, cross-border transmissions, and the history of this zoonotic pathogen is essential to help encourage safe practices when handling livestock and avert potential threats.
Bacillus Anthracis Infections Are Not Contagious but Serious
Anthrax is caused by the gram-positive bacteria Bacillus Anthracis. The infection is not spread rapidly from person to person through the air like the flu or cold. It can, however, cause severe illness in domestic animals and humans if they interact with infected animals or contaminated animal products. 
The most common natural way people get a Bacillus Anthracis infection is cutaneous, after skin contact with contaminated meat, wool, or leather from infected animals. Cutaneous Anthrax infection can be transferred from one person to another through open lesions. Another form of infection is gastrointestinal Anthrax which is contracted when raw or undercooked contaminated meat is ingested. The most harmful method of Anthrax infection is through inhalation, by breathing in bacterial spores in the air. It is fatal unless treated immediately. 
Inhalation of Bacillus Anthracis spores is not common in nature. Still, this method has been exploited throughout history for bioterrorism purposes. Bacillus Anthracis infections have affected almost every corner of the globe.  
Bacillus Anthracis: A Dark History of Bioterrorism
Bacillus Anthracis is effective as a weapon primarily because of its spores. In nature, an infected host sheds the spores on the ground, which then multiply on contact with air. These spores can stay dormant for years, even decades, in the soil waiting for another host [4]. The infection cycle then continues. However, when these microscopic spores can be aerosolized as sprays or powders, they can be released silently and escape detection. Even a small number of spores released in the air can infect massive numbers of people.  
In the United States, the Centers for Disease Control and Prevention (CDC) considers Anthrax as Category A – a Bioterrorism Agent. And indeed, the Bacillus Anthracis has been cultivated and used for bioterrorism from as early as 1915. 
A review of the GIDEON Bioterrorism note for Anthrax shows a long murky past of the pathogen being released by countries during the war, by terrorists to spread fear and destruction, or by accident. 
The 2001 U.S. Anthrax incident was more recent. A much larger Anthrax outbreak was an accidental 1979 Anthrax leak. Bacillus Anthracis spores were released from a secret Soviet military research center in Sverdlovsk, Russia. The story has all the intrigue and devastation that is characteristic of the Cold War. 60-70 people are estimated to have died from the accident, now termed the 'Biological Chernobyl.' The entire incident and related deaths were covered up and blamed on contaminated meat. It was only almost thirteen years later that a team of expert molecular biologists from Harvard University could investigate the spread of the spores on behalf of the CIA [5]. The team confirmed that aerosolized spores spread through the air and caused the outbreak, not meat. 
WATCH/LISTEN TO PODCAST: Dr. Berger discusses Anthrax infections and the associated bioterrorism history with 'Outbreaks News'
Symptoms of Bacillus Anthracis Infections
Cutaneous Anthrax Infections
Itchy blisters or bumps

Painless skin sores that are black in the middle develop after the blisters or bumps 
Gastrointestinal Anthrax Infections
Fever and chills

Swelling of glands in the neck

Sore throat and trouble swallowing

Nausea and bloody vomit

Headaches

Diarrhea 

Stomach pain,

and more

. 
Inhalation Anthrax or Pulmonary Anthrax Infections
The most deadly but rare form of human anthrax infections. 
Fever and chills

Difficulty breathing

Cough

Dizziness 

Extreme fatigue

Sweats,

and more

.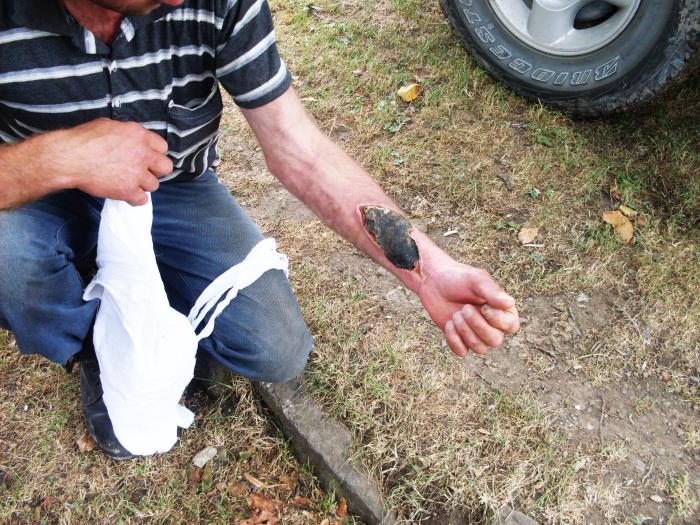 Mitigating Bacillus Anthracis Infections
Cutaneous anthrax infections comprise the majority of anthrax infections worldwide. They are spread through contact with contaminated animals or animal products. The United States, the U.K., E.U., and many other countries worldwide have implemented better tests and protocols around the way animals are handled. With these processes in place, cutaneous anthrax infections have significantly decreased. 
However, it is extremely easy for anyone to carry an infectious disease endemic to one country and spread it to others. National public health agencies, frontline clinicians, infectious disease specialists, and microbiologists will have to work together to mitigate the effects of dangerous pathogens like the Bacillus Anthracis. Taking epidemiological data into account when diagnosing diseases in Point-of-Care settings can be a great first step towards containing emerging infections. 
Prefer your information in a video format? Here's a recording of Dr. Berger discussing Anthrax on the 'Outbreak News' podcast:
Did you like this article? Please share it on social media!
Check out more of our latest content here
References 
[1] "China Reports First Human Case of Pulmonary Anthrax in 10 Years," Caixinglobal.com. [Online]. Available: https://www.caixinglobal.com/2021-08-10/china-reports-first-human-case-of-pulmonary-anthrax-in-10-years-101753398.html. [Accessed: 26-Aug-2021].
[2] Global Times, "Shanxi Province reports 9 suspected anthrax cases, treatment underway," Globaltimes.cn. [Online]. Available: https://www.globaltimes.cn/page/202108/1231472.shtml. [Accessed: 26-Aug-2021].
[3] Press Release, "Human anthrax case reported in Karabudakhkent region, Russia," Outbreaknewstoday.com, 10-Aug-2021. [Online]. Available: http://outbreaknewstoday.com/human-anthrax-case-reported-in-karabudakhkent-region-russia-75939/. [Accessed: 26-Aug-2021].
[4] A. Chateau, S. Van der Verren, H. Remaut and A. Fioravanti, "The Bacillus anthracis Cell Envelope: Composition, Physiological Role, and Clinical Relevance", Microorganisms, vol. 8, no. 12, p. 1864, 2020. Available: 10.3390/microorganisms8121864 [Accessed 26 August 2021].
[5] "Anthrax at Sverdlovsk, 1979", Nsarchive2.gwu.edu, 2017. [Online]. Available: https://nsarchive2.gwu.edu/NSAEBB/NSAEBB61/#doc27. [Accessed: 26- Aug- 2021].